accessorize b/w doubter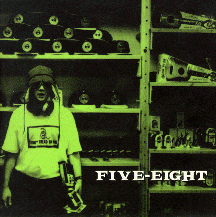 ---
A lovely burgundy disk, released on put it on a cracker records. Both tracks are pounding rawk suitable for annoying your parents. I do my best, and they live 15 miles away.
The single can still be purchased for $4. Make checks payable to Bill Bryson, PO Box 2944, Gainesville, FL 32602 or email him at putitonacracker@hotmail.com
the road kicked the shit out of my favorite band b/w clemente
---
A little something to tide us over until the next album comes out, hopefully around the beginning of next year.
This is a split 7" with Clemente, recorded by Mathew White.
This version of my favorite band was apparently recorded live in the studio, and is very intense, energetic, and loud. Mike doesn't so much play the guitar as wring the notes out, while Dan and Rizzi pound out the stuff that puts the hurt on my poor car speakers.